The quality of your DJ sets will depend significantly on the quality of your tools and how well you know them. Using a DJ software that is right for you will make a huge difference in your sound. We've collected the best DJ software programs based on their ease of use, features, additional tools, and more so you can get started on the right path.
A Little History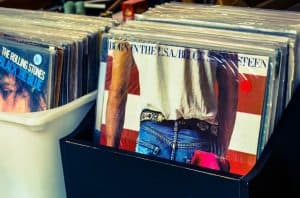 Before digital DJing was a thing, DJs mixed together analog tracks through a DJ mixer. Most famously, DJs carried around crates of records with them that they would place on the turntables. Unfortunately, there were many drawbacks to this.
First off, lugging crates of vinyl around with you to gigs was a cumbersome task. Not only were the crates heavy, but they also took up a lot of space. Also, good vinyl was hard to find, so DJs often hung out in record stores digging through the crates to find some gems.
Secondly, you were limited to playing the songs that you had. This made requests difficult.
Finally, mixing took a lot more effort and skill. Old school DJs often had pieces of tape on the records in order to mark cue points and to assist with scratching. They also relied a lot more on their headphones to listen to and count the tempo to make sure the songs were aligned properly.
Back to the Present
Nowadays, DJ software can virtually recreate two or more decks or turntables that allow digital mixing through the software interface. This helps to solve a lot of the issues that the old-school DJs had.
First off, the music you download from DJ pools and other sources can be imported into the software and formed into virtual crates. This means that instead of carrying around several crates of vinyl, you only need a laptop, ipad, or usb sticks. Not only does this save space, but it allows you to have thousands of songs to pick from at all times.
Secondly, you may be able to hook into streaming services as well and even download songs on the fly. This way, if you are playing a private party and the clients forgot to tell you about their favorite song, you can get it for them immediately and make their night.
Third, digital allowed DJs to transition away from vinyl if they chose. This opened up the door for things like DJ controllers and midi instruments which were lighter and more convenient. They also increased the ability to manipulate tracks on the fly.
Finally, DJ software has so many different options and features that make mixing a lot easier than in the past. From graphical waveforms, to virtual cue points, and even complicated effects, these software programs are complicated and versatile tools.
Reviews of the Best DJ Software
Whether you want a no-frills, primary DJ software product to practice so you can hone your craft or, on the other hand, a top-shelf professional software you can use at upscale, high-volume venues, you'll find it on this list.
1. Serato DJ

Serato DJ is an intuitive platform with a complete suite of creative tools. It's ideally well-suited for complex turntable sets and advanced real-time music manipulation.  For pitch-shifting, it's hard to find a more progressive DJ software, and when it comes to time-stretching, Serato DJ's algorithm can slow down tracks flawlessly.
Features
Serato DJ provides full access to your digital music library. Choose the streamlined, flexible, and easy-to-use Serato DJ Lite or amp up your turntable game with the more complex and powerful Serato DJ Pro. Both work seamlessly with most hardware controllers, and the stability of the software is nearly unparalleled.
You'll be able to define your layout quickly and effortlessly, utilizing up to four virtual decks. Take advantage of every necessary mixing and performance tool to cross genres from hip-hop to dance, and everything in between. It's incredibly simple to implement automatic beatmatching, looping, cueing, and sampling.
More Tools
Serato's NoiseMap technology powers the Serato DVS (Digital Vinyl System) and allows you to integrate your CDJs into your rig for smooth manipulation of video playback as well as audio.  Pull effortlessly from various video file formats, including karaoke files, or use Serato's video content library (included). You can develop an incredible array of sound and visuals using the available effects.
Serato Flip helps you configure your digital DJ setup to handle long series of commands, so you can perform remix tricks with seemingly no effort.  Capture your favorite actions and re-create them for setting a loop or recalling them on demand. With Serato, it's a simple button-push to set up seconds of prolonged play while you riff or grab a refreshment before your next cycle.
Serato FX packs let you access a complete collection of cutting-edge effects developed by iZotope. Combine these with the Serato Remote iPad app, and you can mix anytime, anywhere.
2. Traktor Pro

Traktor Pro is high-level audio, perfect for small gigs as well as the big-time. Time-stretching features and a top-shelf limiter make this software one of the most popular around. It interfaces seamlessly with Traktor hardware as well as most hardware you'll find on-site in venues.
Features
Traktor Pro's straightforward interface and advanced sonic sculpting deliver incredible sound quality in any setting. Beatmatchers will love the versatility on offer, with a fast-acting sync button that beatmatches across tracks in seconds. Experiment with genre-blending and BPM bridging, and then flawlessly remix with beatjumps, loops, and hotcues for a complex sound.
More Tools
More than 40 intuitive effects like Deck FX let you screw and twist tracks for variation after variation. Parallel waveforms and metering give you complete visual feedback for your mix with spectacular results, whether you're playing a small boutique venue or a massive hall. Enjoy the flexibility and ease of transitioning as you explore every possibility of the Traktor Pro setup.
Mixer FX implements single controls for each channel, allowing you to kick a single channel up, down, on, or off in a snap for sonic complexity. It works equally well with a smooth transition style or a mix with heavy drops. You'll achieve big sound assigning the three filters and eight extra effects across your channels.
If you're a DVS DJ using timecode vinyl, you can scratch with any soundcard, adapting to mix partners and different setups with ease. Your library stays at your fingertips with playlists, iTunes sync, and favorite banks, and Smartlists will update according to your sleeted filters when new tracks become available.  Euphoric interludes, 160 bpm workouts, and all of your favorite DJ tools are always ready to go when you are.
3. Rekordbox

Rekordbox gives you cloud music management at its finest, with a complete suite of DJ tools that make mixing and remixing a dream. It allows you to manage multiple types of media from various locations from one centralized location. Pull from the cloud, your hard drive, music promotion services, or streaming services with ease.
You can manage and manipulate music stored in all locations using the advanced track-analysis function, and seamless library syncing across all your devices means that you can access any track at any time from anywhere.
Features
Dropbox integration lets you upload tracks and playlists from your Rekordbox library. Storage in the cloud allows you to instantly access your playlists from any connected device, then sync and play without lag. Auto Relocate finds missing files instantly.
Browsing and tracking features help you create playlists with similar tracks for effortless transitions and a steady beat you can mix all night long. Track analysis gathers data on keys, phrases, BPM, waveforms, and beatgrid, while the advanced AI-powered algorithm displays vocals' positioning for stable performance. Prep takes half the time, and you're ready to DJ the night away.
More Tools
You can playback Rekordbox-analyzed tracks from compatible DJ players in export mode, which lets you transfer your library or playlists to an SD memory card or USB. Play your recordings back from either device connected to a DJ player. Enable playback via Link Export and plays songs from a PC or Mac connected to the DJ player.
Sync track tempos for back-to-back performances with high-quality audio processing. The rapid responsiveness and stable controls are compatible with a vast range of controllers and other software options. Feed-in music from streaming services for unmatchable live performances, and extend intros and outros for precious seconds when you need to set up the next track and prepare for a complex mix sequence.
4. VirtualDJ

VirtualDJ's advanced technology has revolutionized the DJ industry, enabling you to mix in real-time for perfect transitions and seamless live mashups that showcase your chosen instruments, vocals, kicks, hi-hats, and more. It's a brand new world of sound mixing.
Features
Take advantage of real-time stem separation on any track, which is far more accurate than anything available on traditional, frequency-based equalizers. Stem pads support real-time mixing and mashing, with waveform functionality to showcase beats and vocals for smoother transitions with less active clash.
The platform itself is almost crash-proof, built with code that has been tested, optimized, and retested for the lowest crash rates in the industry. Gig with confidence knowing that your software beats the competition and will keep running as you lay down your best beats.
More Tools
Smart DJ technology supports professional DJs with a stand-alone mixer that allows you to rough out new performances on just your computer. Utilize the song library management that offers smart folders, fast search, and AI-suggestions to help you navigate the vast catalogs on file. You'll always be able to meet client requests and sound fresh with the multiple options available through streaming sites.
You can integrate audio-, video- and karaoke formats for hosted events, and built-in audio- and video- effects benefit from an unlimited sampler. Take full control of sound and video loops for stunning visuals. Your DJ skills will rise to the next level as you work your way through all of the possibilities provided by VirtualDJ.
Want a product that works across as many DJ controllers and hardware as possible? VirtualDJ provides plug-&-play support for over 300+ types of gear, from beginner controllers to high-tech club mixers with a simple connection. The software automatically detects and connects, sets itself up, and allows customization via the built-in mapper so you can be play-ready in minutes.
5. Ableton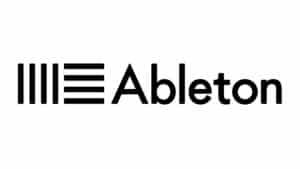 Ableton Live is the creative's perfect solution for complex compositions. It boasts an impressive 70 GB of content and has a wide range of virtual instruments and effects so you can construct tracks and experiment with audio in real time.
Features
You can choose between Arrangement View, with a traditional linear layout, or Session View, which places individual tracks on the X-axis with scenes on the Y-axis, with a slot on each channel for a clip. You can loop clips to create grooves and launch them individually for a brand new riff experience.  Record to the linear view to edit and build your arrangement with lead lines, or record in Session view to take advantage of advanced logic instructions for complex configurations.
More Tools
Nondestructive multitrack recording, powerful mixing, and bussing and return tracks are just a few of the additional tools you get with Ableton. You can also enjoy amp emulation and acoustic resonance, as well as standard effects, EQs, and dynamics. More value-add accompanies incredible synth and sampler instruments, and Max for Live lets you develop your ideas into original effects.
Expand the kind of music you can make with acoustic drums and breakbeats to keys. Ablteon includes multiple epic effects like stompbox emulations and stellar delay. Wavetable synth and tweakable drums mean your well of inspiration will never run dry.
6. Mixxx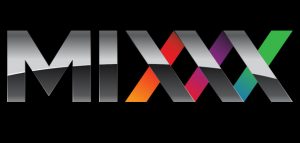 Mixxx integrates digital music files with DJ tools to allow you the space to develop real-time creative works. It's versatile, easy-to-learn, and intuitive enough for a novice turntablist while remaining equally capable of supporting experienced DJs. You can use Mixxx to support your personal mixing techniques and style for a personalized feel.
Features
Mixxx features master sync so you can match the tempo and beats of four songs at once. This makes for a streamlined and seamless mixing experience, and you can loop in 4-, 8-, or 16-beat segments as needed to prolong your mix. Simultaneously, utilize musical key detection and BPM to discover new tracks that mesh with your existing choices—and build unique playlists.
More Tools
Sound effects let you tie multiple effects together and twist knobs in synch with your chosen beats. Simply drop a song onto a deck, follow up on the beats and cue points, and track your progress with the scrolling waveform. A whole-view waveform gives you a birds-eye view for quick seeking.
Pitch and key control make it easy to keylock pitch and change song tempo or change pitch without breaking your synch for brand new harmonization. Tweak tempo speed for manual beatmatching, and enjoy the smoothness or scratchiness of vinyl on demand.
7. Algoriddim: Djay Pro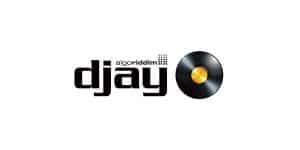 Those who look for simplicity above all else will enjoy Algoriddim: Djay Pro, a DJ software app that works on Mac, iOS, Android, and Windows. The powerful app-based DJ software delivers a sensation similar to mixing on a turntable or physical mixer, with corresponding sound and musical effects.
Features
Algoriddim's Neural Mix™ technology works in real time, using a cutting-edge AI. It lets DJs play and remix using singular elements from multiple tracks. You can isolate and extract vocals, instruments, beats, and more—instantly in real time.
More Tools
Enjoy the flexibility of up to four decks with full integration of cue points, looping, and desktop-class effects for brilliant sound and complete control. Native support for more than 50 DJ controllers and mixers make this software easy to use with your other DJ gear.
Algoriddim also offers instruction in the art of mixing music for aspiring DJs. The Scratch Academy is free, and so is the accompanying video series. You can learn how to scratch and mix using a DJ controller and Algoriddim software.
Conclusion
DJ software has opened up the world of DJing to many who otherwise couldn't afford the complicated and expensive equipment associated with the industry. Whether you are DJing on a smartphone or a laptop, there is a piece of DJ software that will allow you to begin DJing today.
Ultimately, these virtual solutions are just ways of mixing two or more tracks together. Although certain software programs are better oriented toward different genres and styles of mixing, in the end knowing how to use the software to its full ability will make you a better DJ.
So, whatever program you choose to start. Stick with it for a while and learn all the different aspects of it. At some point down the road, it may be time to learn a new software program. Don't worry, the second one will be much easier to learn because the basics are essentially the same.